______
Two Tributes are Scheduled for Tana Hicken:
on Monday, September 15th at 7 PM at Everyman Theatre – 315 West Fayette Street, in Baltimore, MD 21201.
AND
and on Monday, September 29th at 7 PM at The Studio Theatre – 1501 14th St NW, in Washington, DC 20005. 
______
Joy Zinoman
Founding Artistic Director
The Studio Theatre
"Tana Hicken was a singular artist. A great actress. A citizen with true beliefs. A beautiful woman deeply loved by her husband, Donald.
He has asked Holly Twyford and I to organize a tribute to Tana for our community. It will be on Monday, September 29th at 7:00 p.m. at the Studio Theatre.
All are welcome."
______
Gail Beach
Costume Designer
"Most of my more recent contact has been through designing shows with Donald. Tana was in several shows at Center Stage when I was just our of grad school and worked in the costume shop. Frosine was the only costume I worked on that I can remember being for Tana, but Donald once told me it was one of her favorites. Donna Granada was the designer."
______
Linda Elyse Bryce
Theater Volunteer
"I feel as though Tana Hicken has always been a part of my theatre life in DC since the early years at Arena Stage. As a volunteer for several theatre companies, I was fortunate to meet her informally and like her for her modesty and self-deprecating wit, but my favorite memory is of the night I introduced my children to Arena and her performance enchanted them. Over the next three decades, they were always happy to attend any play, reading, or even reception where Tana was. I shared that affection with them and we are all going to miss her."
______
Diane Carroad
Theater Volunteer
"Although I did not know Tana Hicken personally, I was stunned and saddened to hear of her sudden passing. It seemed just a short while ago that I marveled and laughed at her witty and wiley performance in The Studio Theatre's production of 4000 Miles by Amy Herzog. Prior to that play at the same theatre, I witnessed her precision and passion in Athol Fugard's The Road to Mecca.
In recent years, I had missed seeing her act as frequently as she had when I first came here so these two poignant performances were special ones. I never imagined that they would be my last chances to see this mesmerizing actress on the stage – and I now understand that her role as a socialist grandmother was appropriate
I moved to the DC area from NYC in 1980 and ushered at and attended innumerable productions over the years. Immediately, I knew that this actress was quite a unique force who would transform herself countless times before my eyes. When I first saw her at Arena Stage, Tana Hicken impressed me as a talented, wise, gutsy, powerful, down-to-earth yet graceful and agile actress and that perception remains. Regardless of the role, it was obvious that she had an uncanny ability to take on a new persona totally convincingly with incredible naturalness. The deft and compelling energy that Tana Hicken shared in a classic or modern play hit me hard at every performance and I looked forward to hearing and watching her each time.
I just learned that she loved nature and was involved in significant social issues – and that fits perfectly with my image of her.
My sincere condolences to her family and close friends. May they treasure knowing that she gave me and others immense joy and a myriad of opportunities to wonder."
______
Marni Penning Coleman
Actress
"Tana was so incredibly kind to me when we worked together at The Shakespeare Theatre in Lorenzaccio in 2004. She played my mother and had several scenes together, so we always ended up offstage at the same time, hanging out, knitting/crocheting, and chatting. She really took me under her wing, invited me to her house, went on meal breaks with me, introduced me to Donald, and to her friends. During the run of the show she would host me in her Lansburgh apartment and we would talk and talk. She was a totally fierce presence, as well, and taught me the secret to good negotiation: "You have really *not* want the part. Then you can ask for what you want and not be upset if they don't give it to you – you can just walk away."
I absolutely loved her and we got to work together at The Shakespeare Theatre again in 2005 for Comedy of Errors; she was the Abbess and I was Luciana. The women all shared a dressing room, and since the Abbess is only on at the end of the show, Tana was always there when we came offstage, and we had a grand time chatting and creating crafts for friends. I've always wished we could have spent more time together. I tried writing her a couple postcards over the years, and even sent her a note backstage at one of her shows, but we kept missing each other. The final performance of Comedy was the last time we ever spoke together. I miss her terribly, and will never, ever forget her."
______
"My name is Grant Harrison. I played opposite Tana in 4000 Miles at the Studio last spring. I am saddened by this loss and Tana has been on my mind since I got news of her passing.I tried to write a tribute a few days ago but couldn't find the words. Tonight I looked over a monologue from 4000 Miles that I recited to Tana probably close to 50 times and each night we would cry together and share in the catharsis of loss through the tradition of theater. I was immediately filled with those feelings and memories, it was now the right time to write my tribute:
I'm still trying to process this loss, as I'm sure all of us are. Tana played my Grandmother in Amy Herzog's play 4000 Miles last spring at The Studio Theatre and it was only until tonight, looking over my script for that production and reading the words we spoke to each other that grief shook me and this loss began to make its way in. Tana gave of herself as an artist and as a friend, and I learned from her how to become a consistently good actor, but more importantly, I learned how our friendship fostered the art we created together. I will always be impressed by Tana's stories as a young freedom marcher on Washington and I admire the socially conscious life she lived. She was so passionate when telling those stories and it was wonderful to listen. There are so many things we will all miss about her and I will always remember her laughter. There are those private moments actors share only with one another just before the curtain rises and the audience settles in… it was a privilege to have shared those moments with a woman so humbled, giving and effortlessly graceful. Looking back on it, it's difficult to fully recall where our friendship off stage separated from our life together onstage…I'd like to think they became one.
I send my love to her family. -Leo."
______
 "The only way for me to describe it is to say that either being on stage with Tana, or watching her incandescent performances, drew me directly to the very personal place inside me that drew me to theatre in the first place. 
Wife, mother, actress, salt of the earth, anarchist. We were so very lucky to have Tana in our midst. I encourage people to look up the stunning breadth of Tana's career."
Ruth Draper, speaking on the experience of live theatre, once said that an actor is an artist who sculpts in snow. But as I write this and think of all that Tana gave me, I have no doubt it will stay with me always.
Oh, I will miss her so much."
______
Everyman Theatre Remembers Tana Hicken: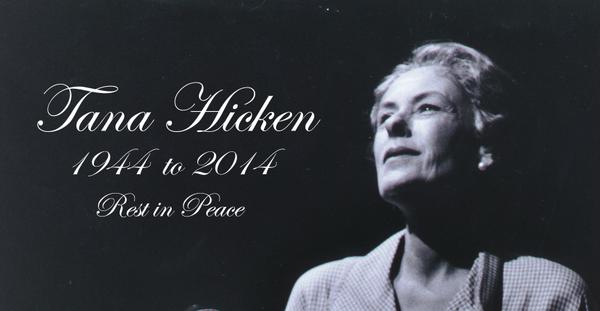 The following tributes are posted on Everyman Theatre's facebook page. I thank Laura Weiss for allowing us to republish them here.
______
Vincent Lacisi
Founder and Artistic Director, Everyman Theatre
"Tana Hicken was quite possibly the finest stage actress I've witnessed in my entire life. Her ability to transform completely was truly astonishing. She was deeply committed to her craft and to humanity. Tana was such a principled person forever adopting wayward and abandoned dogs, cats, and people for that matter. She was a tireless advocate for the underprivileged and for her profession. She was generous in so many ways. She donated performances to Everyman Theatre in its fledgling days when it couldn't afford to pay her. She baked brownies and cookies to sell at our little concessions table to help Everyman keep the lights on.
As a student at Catholic University in the 1980's, Tana mesmerized me with stunning performances at Arena Stage as Mary Tyrone in Long Day's Journey, Hedda in Hedda Gabler, Mrs Alving in Ghosts, among many others. In many ways, her work and the work of the resident company at Arena Stage were the genesis or inspiration for me to found a professional theatre here in Baltimore with our own resident company. Watching her work at Everyman Theatre creating her Eleanor of Acquitane in The Lion in Winter, Amanda Wingfield in The Glass Menagerie, Miss Helen in Road to Mecca, and Emily Dickinson in The Belle of Amherst, I learned about her tireless pursuit of the truth in performance. I received a master class in actingt. I saw how a great performance was crafted moment by moment, every word of text explored, every bit of subtext mined, every iota of symbolism lifted off the page forever etched in the minds and imaginations of the audience. She was extraordinary.
Everyman owes a great debt to Tana Hicken and her family. This photo was taken at the performance honoring Donald's great contributions to Everyman as a director. Caitlin too has contributed to Everyman as its first Education Director. We hold you close to our hearts Donald and Caitlin as we remember and pay our respects to Tana Hicken.
Rest in Peace Tana, Rest in Peace."
______
Maia DeSanti
Actor
"Dear Tana,
It's incredible to me that we sent you happy birthday wishes not even two months ago and are now sending our remembrances…
I had the honor of sharing a stage with you twice and still count those productions among my favorite theatrical experiences for how I felt myself grow, artistically, professionally, personally. Which was much to do with you – your wonderful talent, your wisdom and experience, your opinions and principals, your generous encouragement…
You welcomed Scott and me – and many of us – into your homes on numerous occasions, sharing laughter, delicious food and wonderful stories in rooms and gardens that seemed to bubble over with creative energy and friendship and animals and work and love and the joy of living…
For all these happy times and lovely memories, onstage and off, and for your sparkling talent and passionate spirit and generosity, you will always have my deep gratitude and affection and love. I shall miss you very much…
May the Blessings Be."
______
Bruce Randolph Nelson 
Resident Company Member
"I had long been a devoted follower of Tana as a company member at Arena Stage. She was very much an icon in regional theatre and we were so fortunate to have her right on our doorstep. Then, when I had the chance to work with her in 2001 on Watch on the Rhine. I could not believe my great good luck. Sharing the stage with this mountain of a performer was astonishing. Mind blown for sure."
______
Kyle Prue
Director of Production
"Tana's deep pool of emotional truth, finely honed theatrical intellect, and unceasing demand for the truth of the moment not only made her artistry mesmerizing – they raised the caliber of the work of all the artists around her.
I had the privilege of acting with Tana several times, and on two occasions she played my mother – as Eleanor of Aquitaine in The Lion in Winter and as Amanda in The Glass Menagerie. They are two of the most profound artistic experiences of my career. I will truly miss her artistry…. I will miss her warmth, her grace, and her spirit much, much more. 
Goodbye dear Eleanor…
Goodnight sweet mother….
Godspeed lovely Tana…"
______
Deborah Hazlett
Resident Company Member
"Tana was an extraordinary and brilliant truth teller. She taught me how to fight for truth in every moment on stage, and to have the courage to be vulnerable enough to let that truth come through me. I will never forget her beauty, strength, and courage."
______
Jay Herzog
Lighting Designer
"It has been a great pleasure to have worked on a number of plays with Tana Hicken's provocative acting and with Donald Hicken's meticulous directing. The Glass Menagerie is my favorite play and Tana's portrayal of Amanda was memorizing. Her ability to move through such a complex assortment of emotion from moment to moment demonstrated such powerful skills.
My other favorite role, in a play that I was fortunate enough to collaborate on, was The Road to Mecca. Miss Helen is a difficult character and based on a South African woman of great inspiration. Tana too was an inspiration for so many theatre artists and audiences."
______
Joel Markowitz
Fan and Admirer
"I am still shocked about the sad news that Tana Hicken has passed away. Here was an actress whose work touched me so deeply, so I pondered what to do on this website. Should I write an obituary? Should I write an article about her life and work? Others have done both already since her untimely passing. So I decided to reach out and ask her friends and colleagues to speak from their hearts. And they did and I thank them so much for doing so.
And so as a fan and admirer:
Tana,
I will miss you on the stage. You touched me and so many other theatregoers and we will miss you immensely. Your performances will live on forever in our hearts and memories.
And to Donald and the Hicken family:
Thank you for sharing her with us."
______
Ari Roth
Artistic Director, Theater J
"We lost one of the great ones in the Baltimore/Washington area last night, Tana Hicken, who past away in her sleep. A friend reports that Tana contracted a rare degenerative muscular disease last month that attacked her lungs. Tana starred in only one show at Theater J, but what a performance it was: Jerry Whiddon's production of Neil Simon's Pulitzer Prize winner, Lost in Yonkers.
Others in the community will have certainly worked longer with this great veteran actress, former company member at Arena Stage back when they had a company (and I certainly remember her from the first days of developing Born Guilty back in 1990 — a production she was unable, ultimately, to take part in, but she left an indelible impression all the same; and how moving when we reconnected many years later.)
There wasn't a more fiercely realized performance in her estimable career than what she shared with us in her portrayal of Neil Simon's flinty Grandma Kurnitz, seen here with Holly Twyford (photos courtesy of Stan Barouh).
May her memory be a blessing and an inspiration to all of us…"
______
John Sadowsky
Playwright
"I distinctly remember every role that I had the wonderful pleasure of seeing her perform, from the early years in the Arena Stage resident company, through performances at Round House, Studio, Everyman, CenterStage, Rep Stage, and such masterful work in The Glass Menagerie, The Road to Mecca, The Lion in Winter, Dancing at Lughnasa, etc., etc., and, of course, the brilliant Belle of Amherst. She not only dazzled and entertained, but was a true lesson in acting, creating, sustaining, completely inhabiting, and owning a character. My life was enriched in having the opportunity to watch her bring things to life on the stage."
______
Kyle Schliefer
Actor
"Tana Hicken was an extremely giving actor. She was someone who was so good at what she does that playing off her was so easy. She always gave me so much to work with in a scene and all I ever wanted to do was to try and give it back to her as much as I could. She elevated Lost In Yonkers because she was so in command of the work she was doing and so sure of who that character was and how she related to everyone else in the piece. If I could steal anything from her it would be the confidence she had in her work and the level of skill she had in producing it. Off stage she was sweet as can be, nothing like her character. She was always willing to give advice when I asked. I was extremely lucky as a young actor to get the time I did with one of the greats in DC."
Max Talisman
Actor
"In my short career, I have been lucky enough to work with many great actors from show to show -people who inspire you to work harder and become a better actor and person. But there are few who inspire you in the way Tana Hicken inspired me. When I worked with her on Lost in Yonkers at Theater J, I was young (a Sophomore in High School) and I was very intimidated by the two female forces I was going to be sharing the stage with.
I walked into the first reading of the play with many fears and trepidations. Not only would I be working with Tana, but Holly Twyford was playing the role of Bella in the play. Tana introduced herself to me that first day. She took the time to ask me about who I was, where I came from and what I wanted to be. She kept doing this throughout the rehearsal process, these check-ins. But they were more than that. I have never worked with someone who was so genuinely interested in my hopes, my aspirations, and my future.
One day, I got to the theater about three hours before a show and the first hour it was just me backstage, on my laptop doing school work. But Tana came about two hours early and she came in and saw I was there. We talked and talked for about an hour, until everyone else came in and filled the dressing rooms and joined in our conversation. She was so full of joy and honest appreciation for the people around her and what they brought to the world. She had an interest in them. That's what was so incredible about Tana to me. Even in the later stages of her career she was still so interested in people, and still studying them.
Working with her and Holly every night was more than a masterclass for me on stage, and it was a joy, and absolute privilege. I have never learned more while being on stage but I've also rarely had as much fun or joy as performing with Tana and the cast. She was an incredible actress, but more than that she was a beautiful person who taught me what it meant to appreciate life in the theater."
______
[Editor's Note: If you would like to send in your tribute, please send it to dcmetrotheaterarts@gmail.com and I will add it to this tribute.]
LINKS
Obituary in The Washington Post by Emily Langer on August 20, 2o14.
'4000 Miles' star Tana Hicken: 'This may be my last play' by Nelson Pressley in The Washington Post on March 22, 2013.
A Tribute to Tana Hickens by Bill Largess on theatreWashington.